With the release of Skepta's new album 'Konnichiwa' this week it seemed like a perfect time to release the first in a series of new Free Grime instrumentals. Inspired by the beats on Konnichiwa and it's dark sounds this instrumental fits the bill perfectly. It's a mixture of traditional UK Grime samples, skippy drums and dark synth and bass sounds. As is tradition this beat is produced at 140BPM with an off beat and half time sound. This and many more great free grime and free rap beats here.
Grime music styles can be wildly different from artist to artist this makes it difficult when producing Grime to find a clear format or direction to follow other than the temp of course. This means that most MCs can rap over almost any type of beat. This instrumental is no different and would work well for all MCs including Skepta, Stormzy, JME, Bugzy Malone, Giggs, Devlin, Wiley and Dizzee Rascal.
Grime Instrumentals & Sample Packs
As always we have put together a sample pack for this beat that you can download. If you like the drum samples, drum loops or synth sounds in this beat be sure to download the sample pack that was made exclusively for this beat.
Listen below and download the beat.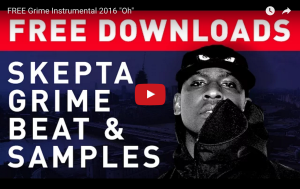 Follow us on Youtube for free, new and exclusive beats and sample packs every week.
For more free rap beats click here.
Download Skepta Grime Instrumental (9mb)
Lease this beat for commercial use for $13.00