Free Beats & Samples presents another epic sample pack for you to download for free. As always we have put together this sample pack from our latest beat available to download here. This time it's a Grime sample pack including skippy drum loops, Grime drum samples, Grime bass and synth sounds and many more sounds. Download these Grimes samples below. These samples would also work well for Dubstep production and Dubstep drum samples and Dubstep drum loops.
What is included in this Grime Sample Pack?
Drum Loop 1
Drum Loop 2
Guitar Looop
Hi Hat Loop 1
Hi Hat Loop 2
Hi Hat 3
Kick 1
Kick 2
Open Hi Hat
Chinese String C
Guitar 1 C
Guitar 2 C
Lead C
Oh Vocal
Piano C and many more…
Hear the Grime samples in action below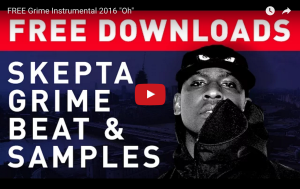 Follow us on Youtube for free, new and exclusive beats and sample packs every week.
Download Skepta Grime Sample Pack (18mb)