Free Beats and Samples presents the first in a series of free R&B instrumentals. This time we have created a smooth R&B type beat for you. This slow paced (80bpm) track fits perfectly in the sound of a PartyNextDoor type beat, a Drake type beat, Majid Jordan, Jhene Aiko and the like. The drum samples are crisp and sparse which help through the dark yet etherial reversed piano sound that makes up the core of the beat. The skippy trap style drum loops help fill out this sparse beat. This R&B beat picks up in the chorus with some delayed piano soaked in reverb.
As with our other beats this beat would suit artists like PartyNextDoor, Drake, Bryson Tiller, Post Malone, Travis Scott and Future to name a few
R&B Instrumentals Sample Pack
If you like this you can get the exclusive R&B Instrumentals Sample Pack that was created along with this beat. It includes R&B drum samples, R&B drum loops and R&B Synth sounds.
Download the exclusive sample pack here.
Listen to the R&B Instrumentals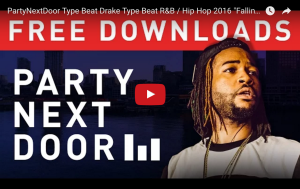 Show support and subscribe to our Youtube channel.
Download PartyNextDoor Beat FREE (6mb)
Lease this beat for commercial use for $13.00