Another Trap sample pack for you here. This week we have created a over 25 FREE Future and Drake inspired samples that sound great for Trap beats or even R&B.  This FREE Future Trap sample pack includes some great Trap drum loops, Trap drums, Trap Kicks, Trap Snares and some emotional R&B and Trap Melodies. Again another Trap sound kit you don't want to miss! Let us know your thoughts in the comments below and what sample pack to create next! All of our samples are extremely high quality and are 24 bit with a 44100 sample rate! This sample pack also includes free Trap loops, Hip Hop loops and R&B loops.
What's included in this FREE Future Trap Sample Pack?
We have over 25 FREE Trap and R&B samples for you, all of which are exclusive to this site and can't be found anywhere else including:
Bang FX 1
Bongo 1
Bongo 2
Drone Down
Finger Snap
Hi Hat 1
Hi Hat 2
Kick 1
Kick 2
Snare 1
Bass Loop
Blip Loop
Drum Loop 1
Drum Loop 2
Piano Loop 1
Warped Guitar Loop
and more…
Listen to the R&B and Future Trap sample pack here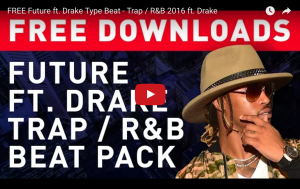 Follow us on Youtube for free, new and exclusive beats and sample packs every week.